Christmas Matcha Decoration Cake
Recipes, Desserts & Beverages
Share: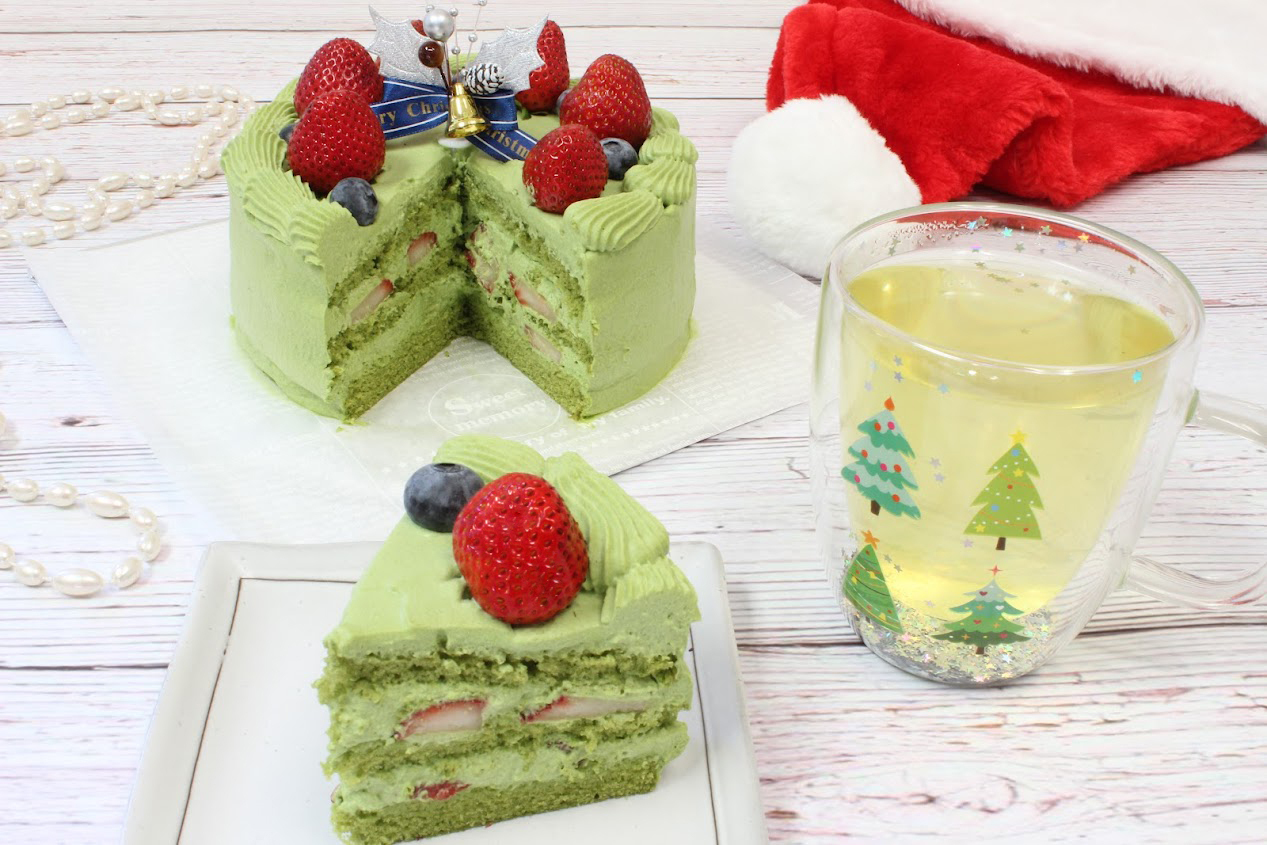 How to Make the Christmas Matcha Decoration Cake

Ingredients
For the Genoise Sponge
2 eggs

½ cup all-purpose flour
⅓ cup granulated sugar
1 ½ Tbsp unsalted butter
1 ½ Tbsp milk
1 tsp matcha powder
For Decorating
1 ½ cup heavy whipping cream
¼ cup granulated sugar
2 Tbsp matcha powder
8 oz strawberries or your favorite fruit
For the Cake syrup
1 Tbsp granulated sugar

⅕ cup hot water
Instructions
Step 1: Preheat the oven to 350°F.
Step 2: Line the bottom and sides of a 6" round cake pan with parchment paper.
Step 3: Sift dry ingredients together. In a small cup, add butter to milk, melt in the microwave, and keep warm.
Step 4: In a large heat-proof bowl, add the eggs and sugar. Place this bowl inside a larger bowl that is filled with hot water to make a bain-marie. Using a hand mixer, beat the eggs on high speed until they become lukewarm (about 104°F/40℃) and the sugar dissolves. Remove from the larger bowl and keep whipping until soft, fluffy, and pale yellow ribbons form. This should take 8 to 10 minutes.
Step 5: Once eggs are whipped, add sifted dry ingredients to the egg mixture and gently fold it in with a spatula.
Step 6: To help incorporate the butter mixture, mix 3 spoonfuls of batter into the warmed, melted butter and mix.Then gently fold the butter mixture into the batter.
Step 7: Pour the batter into your cake pan and bake at 350°F until a toothpick inserted in the center comes out clean. For 6" round pans, it should take about 25 minutes.
Step 8: Remove the cake from the pan, take off the parchment paper, and allow it to cool completely on a cooling rack.
Step 9: While your cake cools, make the syrup by dissolving the sugar in hot water. Set this mixture aside.
Step 10: Cut strawberries or other fruit into thin slices for the inner layer, leaving some pieces whole to decorate the top of the cake.
Step 11: In a large bowl, mix granulated sugar and matcha powder together. Add the cold heavy cream in 3 parts, mixing well each time. After adding all the cream, beat on medium speed until soft peaks form.
Step 12: Slice your cake into 3 even layers. Brush even amounts of the cake syrup onto each layer, including the top.
Step 13: Apply a layer of cream to the first cake and then top it with sliced strawberries. Add another layer of cream on top of the strawberries and follow this with another layer of cake. Repeat for the third layer.
Step 14: Next, frost the top and sides of the cake with whipped cream and decorate as desired. Arrange whole strawberries and other fruits to create fun patterns!
Featured Topics