Cream Puffs (Craquelin)
Recipes, Desserts & Beverages
Share: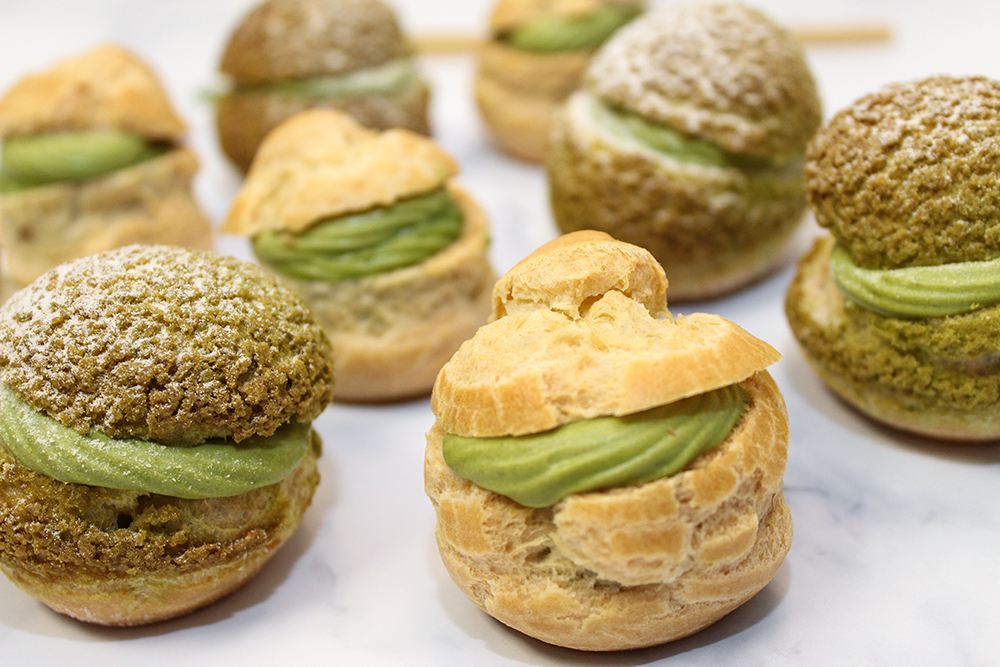 Cream Puffs (Craquelin)

Ingredients
Craquelin Top (cookie dough)
2 Tablespoon (30g) unsalted butter

2 tablespoon (25g) granulated sugar
3 tablespoon (28g) all-purpose flour
¾ teaspoon (2g) matcha powder
Puff pastry
½ cup (100g) water

4 tablespoons (60g) unsalted butter, cut into 1/2-inch cubes
½ cup (70g) all-purpose flour, sifted

3 large eggs
One pinch of granulated sugar and salt
Matcha Pastry Cream
1 ½ cups (360g) whole milk
½ cup (90g) granulated sugar
2 ½ tablespoon (20g) cornstarch
2 tablespoon (10g) match powder, sifted
Yolks from 3 large eggs
Instructions
Make the Choux Pastry
Step 1: Preheat oven to 375°F°
Step 2: In a medium bowl and using a flexible spatula, mash together granulated sugar and butter, then stir until smooth and creamy, about 3 minutes.
Step 3: Add flour and matcha mixture and mix until no dry flour remains and a damp, crumbly meal has formed, about 2 minutes.
Step 4: Place a sheet of parchment paper on a work surface and set dough on top. Cover with a second sheet of parchment paper. Using a rolling pin, roll out dough into a ⅛ inch thick. Freeze until cold, about 5 minutes (or refrigerate until cold, about 15 minutes). Meanwhile, line a second baking sheet with parchment paper.
Step 5: Remove the top sheet of parchment paper. Using a 1 ½ inch round cutter, stamp out 12 pieces of craquelin. Working quickly, transfer craquelin rounds to the prepared baking sheet in a single layer, and return to the freezer; you may need to slide an offset spatula under the cut-outs to loosen them from the parchment paper. If desired, craquelin dough scraps can be re-rolled out, chilled, and cut into new rounds.
Make the Craquelin Top
Step 1: In a medium saucepan, combine water, butter, sugar, and salt. Set over high and cook until liquid comes to a rolling boil and butter has fully melted, about 2 minutes.
Step 2: Remove from heat and add flour. Using a wooden spoon or stiff silicone spatula, thoroughly mix in flour until no lumps remain.
Step 3: Add one egg at a time, stirring well until each egg is fully incorporated before adding the next, until a smooth, shiny paste forms.
Step 4: Transfer to a pastry bag fitted with a 1/2-inch plain round tip.
Step 5: Holding the filled pastry bag at a 90° angle, apply steady downward pressure and pipe a 1 ½ inch-wide choux. Continue to pipe choux about 2 inches apart, for a total of 12 choux. Top each choux with a craquelin cut-out, making sure it's positioned parallel to the floor of the baking sheet, then press down slightly to ensure it adheres to the highest point of the piped choux.
Step 6: Forst, bake at 375°F for about 15 minutes, then decrease the temperature to 350°F and bake until golden brown, about 25-30 minutes total.
Step 7: Remove from the oven and cool.
Matcha Pastry Cream
Step 1: In a small bowl, combine matcha powder and half of the sugar well.
Step 2: In a medium heat proof mixing bowl, mix egg yolks and the rest of the sugar until mixture is pale yellow, smooth, and fluffy, about 1 minute. Then add cornstarch and mix.
Step 3: Pour milk in a medium saucier and bring to a bare simmer over medium heat. Add some warmed milk into the matcha powder and mix well until matcha dissolves. Pour matcha into the milk and stir well.
Step 4: Cook over medium heat, whisking constantly until pastry cream begins to thicken. Once it thickens, continue to whisk, pausing every few seconds to check for bubbles. When it begins to bubble, continue whisking for 1 minute.
Step 5: Remove from heat. Strain pastry cream through a fine-mesh sieve set over a heatproof medium bowl. Immediately place plastic wrap or buttered parchment paper directly on the surface of the cream to prevent a skin from forming. Transfer bowl to prepared ice bath to chill for 30 minutes, then refrigerate until cold.
Step 6: Whisk heavy whipping cream and combine it with the matcha pastry cream.
Step 7: Fill the cream in the puffs.
Featured Topics