Matcha Crepe Cake With Orange Whipped Cream Recipe
Recipes, Matcha, Drinking & Eating, Desserts & Beverages
Share: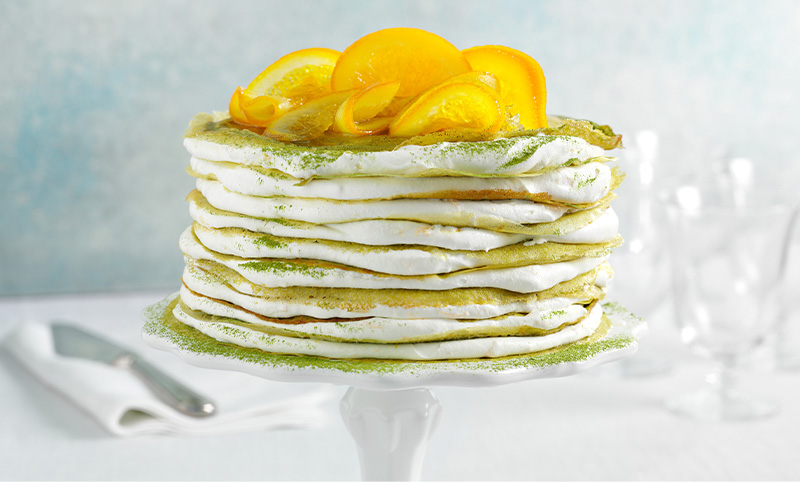 Looking for a unique cake for a birthday party or just to sweeten a regular day? Check out this easy matcha crepe cake recipe.
3-Step Matcha Crepe Cake Recipe
Ingredients
For the Crepes
2 Tbsp. Sugimoto Organic Daily Matcha or Ceremonial Matcha
1 cup all-purpose flour
1 cup milk
1/2 cup warm water
4 large eggs
4 Tbsp. unsalted butter, melted
3 Tbsp. sugar
1/2 tsp. salt
1 tbsp. orange liqueur, such as Grand Marnier
Butter for cooking
Combine all crepe ingredients in a blender and blend until smooth. Cover with plastic wrap and refrigerate for one hour.
For the Orange Whipped Cream
2 cups heavy whipping cream
4 Tbsp. powdered sugar
4 tsp. orange zest
4 tsp. orange liqueur, such as Grand Marnier
Step 1: Mix all ingredients
Combine all ingredients in a large bowl. Using an electric mixer, beat until stiff peaks form.
Cover and refrigerate until you are ready to assemble the cake.
Step 2: Prepare the batter
Heat a small nonstick pan over medium heat. Melt a little butter in the bottom of the pan and pour 2-3 tablespoons of crepe batter in pan.
Lift and tilt the pan so the batter forms one even thin layer over the bottom of the pan. When the batter is set and slightly golden in color, flip crepe and cook for a few minutes longer.
Remove crepe to a sheet of parchment and continue cooking crepes until you have 10 to 15 crepes.
Step 3: Assemble
To assemble crepe cake, lay one crepe on a cake plate. Use an icing spatula to completely cover crepe with orange whipped cream.
Layer another crepe over the cream and repeat to make a stack of 10 to 15. Chill cake in the fridge for 45 minutes before slicing. Garnish with candied oranges and additional matcha powder if desired.
Check out more green tea recipes on our blog and by downloading our free Green Tea and Beyond recipe book.
For more matcha recipes, check out our blog!
READ NEXT: Sea Salt And Matcha Butter Cookies With Chocolate Filling Recipe
Featured Topics