Matcha Mousse Cake
Recipes, Desserts & Beverages
Share: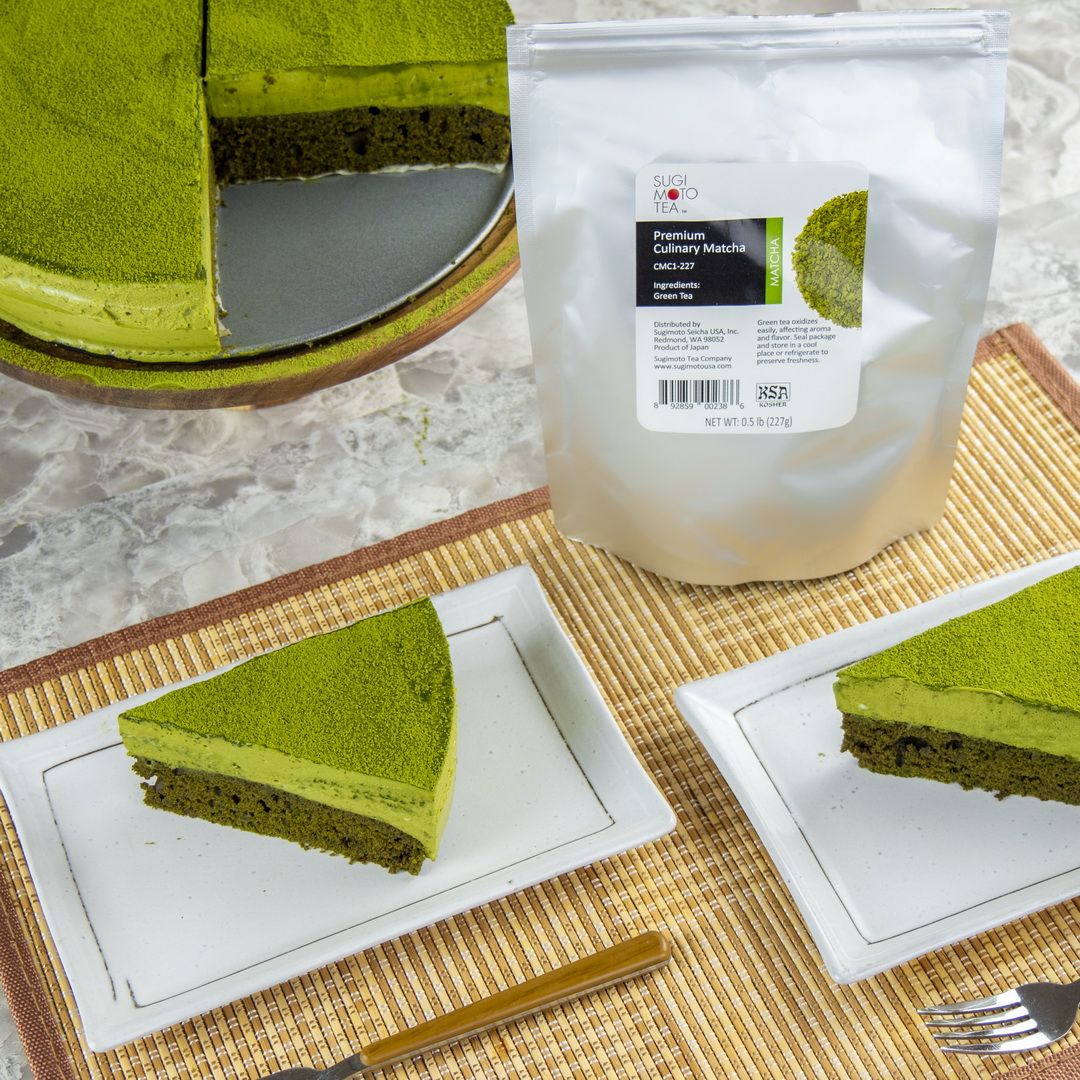 Matcha Mousse Cake

Serves: 8
Prep time: 35 minutes
Cook time: 15 minutes
Chill time: 4 hours
Ingredients

For cake:
1 cup flour
½ cup sugar
4 tablespoons matcha powder
1/2 teaspoon baking soda
2/3 cup water
4 tablespoons canola oil
2 teaspoons white vinegar
For mousse:

2 tablespoons gelatin powder
10 tablespoons cold water
2 ½ cups heavy cream
4 tablespoons matcha powder
2/3 cup powdered sugar
To garnish:

2 tablespoons matcha powder
Instructions
For Cake

Step 1: Preheat your oven to 350. Spray a 9" pan (or springform pan for easier removal) with nonstick cooking spray and line with parchment paper.
Step 2: In a bowl, combine all dry ingredients. Add water, canola oil and vinegar and whisk until smooth. Pour into your pan and bake for 8-11 minutes. Remove cake from oven and set aside to cool. Do not remove your cake from the pan.


For Mousse

Step 1: Prepare gelatin powder for use by soaking it in 6 tablespoons of cold water for 5 minutes. Then, microwave for 20 seconds.
Step 2: In a bowl, add 4 tablespoons of cold water, 1 cup of cream and matchapowder. Whisk to combine, then microwave for 90 seconds
Step 3: Whisk prepped gelatin into cream and matcha mixture and allow mixture to cool to room temperature.
Step 4: In a large mixing bowl, add remaining cream and sugar. Using an electric mixer, beat until thick peaks form. Gradually mix whipped cream into matcha cream mixture using a spatula.
Assemble

Step 1: Using a spatula, spread mousse over your cake. Refrigerate or freeze for 4 hours. Garnish with sifted matcha powder then slice and serve.
Featured Topics