Chicken With Matcha Lemon Crème Garlic Sauce Recipe
Recipes, Matcha, Drinking & Eating, Entrees
Share: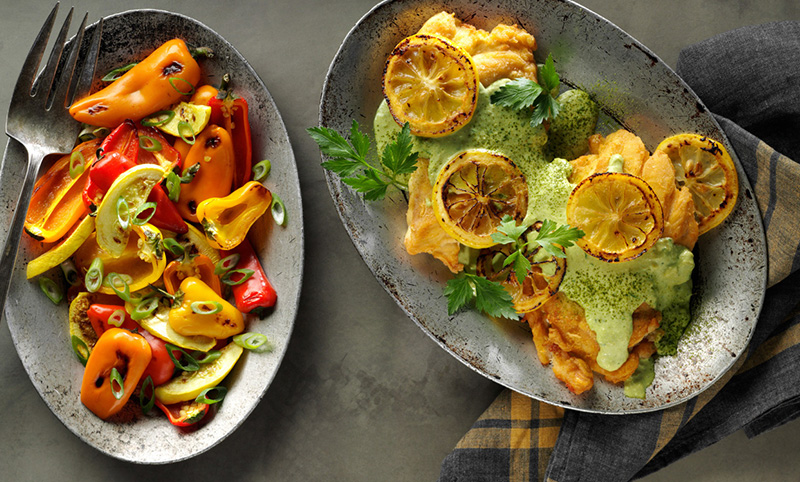 Chicken and matcha may seem like an odd pairing, but this oven-roasted chicken with matcha lemon creme garlic sauce may change your mind. Here's how to make it.
How to Make Chicken With Matcha Lemon Crème Garlic Sauce
Ingredients
1 Tbsp Sugimoto Organic Daily Matcha
2 skinless, boneless chicken breasts, flattened
1/2 cup all-purpose flour
1/4 cup extra virgin olive oil
1 pint Half and Half
2 Tbsp butter
2 garlic cloves, minced
1/2 cup grated parmesan cheese
2 Tbsp chopped parsley leaves (separated)
1 tsp freshly squeezed lemon juice
1/8 tsp sea salt
1/8 tsp freshly ground black pepper
Step 1: Preheat the Oven
Preheat the oven to 375 degrees.
Step 2: Prepare the Chicken Breasts
Wash, dry, and flatten two chicken breasts; sprinkle with salt and pepper. Coat each chicken breast with flour by using a plastic bag and shaking it well.
Step 3: Fry the Chicken
Fry chicken in olive oil in a preheated skillet 3 minutes on each side on medium heat. Remove chicken breasts from skillet, cover, and set aside.
Step 4: Saute the Butter
In a skillet, sauté half and half, butter, and minced garlic until reduced by one-third.
Step 5: Prepare the Sauce
Mix parmesan cheese with matcha in a small bowl; add to skillet and stir in well. Remove from heat and add lemon juice and 1 tbsp. parsley.
Taste and add salt and pepper to taste. Pour sauce over top of chicken breasts.
Step 6: Bake the Chicken
Bake at 375 degrees for 25 minutes.
Step 7: Serve
Remove from the oven. Sprinkle with 1 tbsp. of parsley and serve.
Check out more green tea recipes on our blog and by downloading our free Green Tea and Beyond recipe book.
Check out our blog for more Japanese green tea recipes!
READ NEXT: Wild Caught Cod With Matcha And Veggies In Parchment Recipe
Featured Topics