Wild Caught Cod With Matcha And Veggies In Parchment Recipe
Recipes, Matcha, Drinking & Eating, Entrees
Share: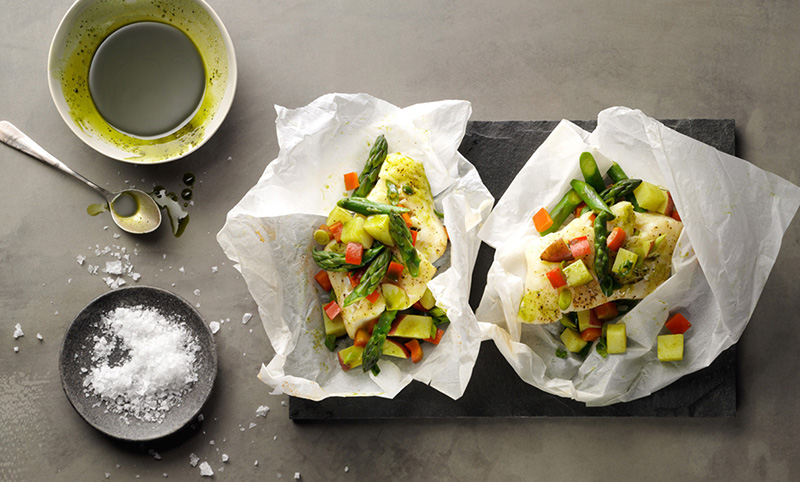 Matcha may be a popular ingredient for desserts, but have you ever tried it with fish? Here's a delicious fish dish you can make using matcha.
How to Make Wild Caught Cod With Matcha And Veggies In Parchment
Ingredients
1 Tbsp. Sugimoto Organic Daily Matcha
2 medium-sized fillets of wild-caught cod
4 asparagus spears, diced
2 small red potatoes, diced
1/2 red bell pepper, diced
2 green onions, diced
1 Tbsp. fresh Lemon Juice
2 Tbsp. Extra Virgin Olive Oil
Sea salt and freshly ground black pepper, to taste
Step 1: Preheat the Oven
Preheat the oven to 375 degrees.
Step 2: Prepare the Fish
Wash and dry fillets; place on a plate. Squeeze lemon juice over and drizzle tops with 1 Tablespoon olive oil; sprinkle with salt and pepper on each side.
Step 3: Prepare the Vegetables
Wash vegetables and dice into small pieces; place vegetables in a medium-size bowl; Add Matcha, 1 Tablespoon olive oil, ½ tsp salt, ¼ tsp. pepper and mix well.
Step 4: Combine the Vegetable Mixture With the Fish
Place each fillet in the middle of the parchment paper. Divide the vegetable mixture on top of each fillet.
Step 5: Create the fish parcels
Taking the left and right edges of the parchment paper, pull each edge up to meet at the top like a tent.
Fold sides down together in ½ to 1-inch increments until you reach the fillet; staple the last fold and fold down flat against the packet. Now, take the other two ends and fold them each the same way toward the sides of the fillet; press down firmly on all folds, making sure no air can escape or get into the inside. These sides can be stapled as well.
Step 6: Bake
Place the two packets on a baking sheet and bake at 375 degrees for 45 minutes. Be careful of the hot steam when opening the packets.
Step 8: Serve
Place each packet on a serving plate. Slice or cut open the top and pull back to enjoy the contents. Serve right in the packet or take out and serve on the plate.

Check out more green tea recipes on our blog and by downloading our free Green Tea and Beyond recipe book.

READ NEXT: Linguini And Tomatoes With Matcha Cheezy Cashew Cream Sauce

Featured Topics