Linguini And Tomatoes With Matcha Cheezy Cashew Cream Sauce
Recipes, Entrees, Matcha
Share: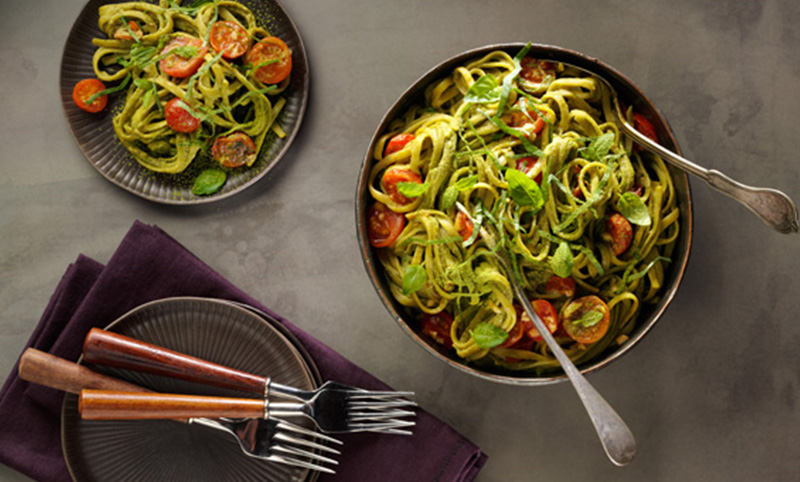 Looking for a new recipe for Meatless Monday? Here's a simple vegan pasta dish you can enjoy without the guilt.
How to Make Linguini And Tomatoes With Matcha Cheezy Cashew Cream Sauce
Vegan Recipe
Ingredients

2 tbsp. Sugimoto Organic Daily Matcha
6 garlic cloves, minced
2 pints cherry tomatoes, halved
12 basil leaves, chiffonade
2 cups raw unsalted cashews (soaked 2 hours)
1/3 cup nutritional yeast
1 bunch green onions, finely chopped, including most of the green tops
1/4 cup extra virgin olive oil
1 tbsp. freshly squeezed lemon juice
2 tbsp. water
1 16 oz. package of linguini
Sea salt and freshly ground black pepper
Step 1: Cook the Pasta
Heat 6 quarts water to boiling. Add pasta and 1 tsp. salt.
Boil pasta for 9-12 minutes until al dente. During this time, prepare the sauce.
Step 2: Prepare the Cashews
Drain cashews and add to blender with 2 tablespoons water. Process until smooth. Add more water 1 tablespoon at a time if needed.
Step 3: Saute
Heat olive oil in large skillet on medium heat. Add tomato halves, green onions, and garlic. Sauté for about 2 minutes until tomatoes are slightly soft.
Step 4: Make the Sauce
Add Matcha, nutritional yeast, and lemon juice to cashew puree. Mix well.
Add salt and pepper to taste. More water may be added if the consistency seems too thick.loo
Drain and add pasta to the mixture in the skillet and stir well to mix all ingredients. Add about half the basil and stir in.
Sprinkle remaining basil on top before serving.
Check out more green tea recipes on our blog and by downloading our free Green Tea and Beyond recipe book.

READ NEXT: Toasty Goodness Hojicha Risotto Recipe

Featured Topics