Toasty Goodness Hojicha Risotto Recipe
Recipes, Hojicha, Entrees
Share: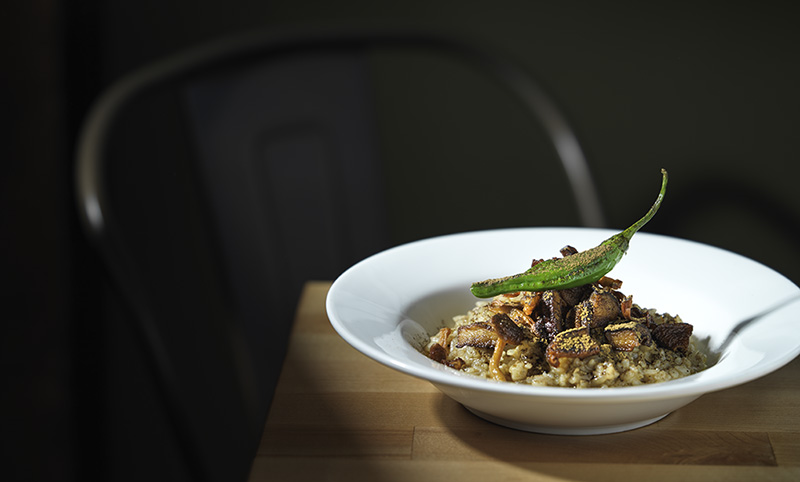 Aromatic, cheesy, and nutty, this creamy risotto is the perfect dish to warm up with. Learn how to make this hojicha risotto here.
How to Make Hojicha Risotto
Serves 2
Prep Time: 20 minutes

Cooking Time: 30 minutes

Ingredients
2 Tbsp loose leaf Hojicha
1 cup water
1 tsp Hojicha powder
1/4 cup shitake mushrooms
1/4 cup Bunashimeji mushrooms
2 Tbsp unsalted butter (reserve 1 Tbsp for later)
1 Tbsp extra virgin oil
1/2 tsp chopped garlic
1/4 cup minced onions
1 cup cooked rice
1/4 tsp salt
1/2 cup Parmiggiano-Reggiano cheese
1 Shishito green pepper
Pinch of ground cayenne pepper (optional)
Step 1: Brew the Hojicha
Brew loose leaf Hojicha using 2 Tbsp of tea in 1 cup of 200°F hot water for 3 minutes.
Step 2: Strain Tea Leaves
Strain tea leaves out and set brewed tea aside.
Step 3: Fry the Mushrooms
Fry Shitake and Bunashimeji mushrooms in 1/2 Tbsp of butter until the edges are crispy and remove from pan.
Step 4: Fry the Remaining Ingredients
Add remaining butter, olive oil, garlic, and onions to a hot pan and fry.
Step 5: Add Rice and Tea to the Pan
Put boiled rice, brewed Hojicha, and salt in the pan.
Step 6: Add Cayenne Pepper and Cheese
When the rice has heated up and is starting to get softer, add ground cayenne pepper and cheese.
Cook until cheese has emulsified with the rice and tea.
Step 7: Serve
Plate and garnish with olive oil. Shishito, and a sprinkle of Hojicha Powder.
Check out more green tea recipes on our blog and by downloading our free Green Tea and Beyond recipe book.

READ NEXT: Three Teas Umami Seasoning Recipe

Featured Topics