Daigaku Imo a la Mode Recipe
Recipes, Matcha, Hojicha, Drinking & Eating, Desserts & Beverages
Share: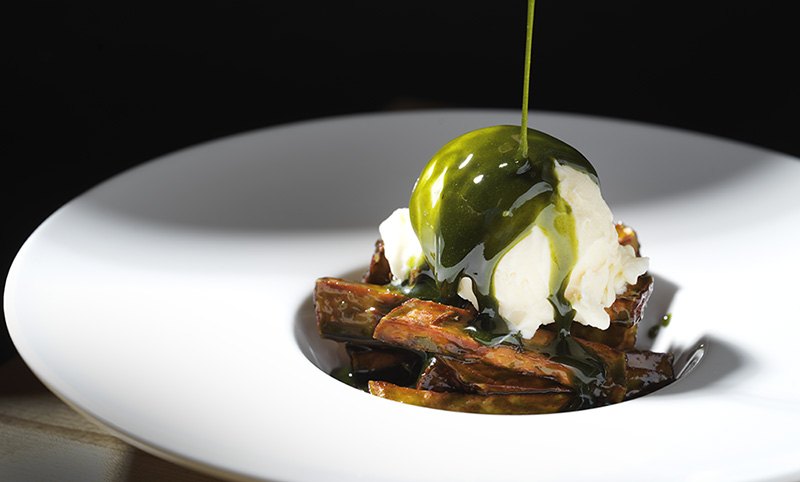 As the heat from the fried Satsumaimo (Japanese Satsuma sweet potato) melts the ice cream, the cold of the ice cream freezes the matcha honey sauce. Together, these elements create a delightful contrasting trio of textures and sweetness in this Daigaku Imo a la Mode.
How to Make Daigaku Imo a la Mode
Serves 3
Prep Time: 15 minutes

Cooking Time: 10 mins.
Ingredients

4 tsp Matcha or Hojicha Powder
1 Large Japanese Satsuma Sweet Potato (Satsumaimo)
1/2 Tbsp melted butter
4 1/2 Tbsp honey
1 scoop vanilla ice cream per serving
Vegetable oil for frying
Pinch of black sesame seeds per serving
Step 1: Chop the Sweet Potato
Chop Satsumaimo sweet potato into bite-sized pieces, leaving the skin on.
Step 2: Soak the Sweet Potato
Soak the Satsumaimo sweet potato pieces in water for 5 minutes.
Step 3: Prepare the Tea Honey
While the Satsumaimo is soaking, prepare the tea honey by heating up the butter and honey together and mixing it well.
Step 4: Sift the Tea Powder
Using a strainer, sift the tea powder into the mix and gently mix as to avoid creating clumps. If necessary, use the strainer to sift out any clumps that do appear.
Step 5: Dry Off the Sweet Potato
Take the Satsumaimo sweet potato pieces from the water and dry off using paper towels.
Step 6: Fry the Sweet Potato
Turn on the heat to medium-high and using a frying thermometer, fry the potato pieces in vegetable oil at 375°F for about 2-3 minutes until they get soft and start to brown.
Step 7: Serve
Serve the sweet potato on a plate and put vanilla ice cream on top. Pour hot tea honey mix on the ice cream and sprinkle with tea powder and sesame seeds.
Check out more green tea recipes on our blog and by downloading our free Green Tea and Beyond recipe book.

READ NEXT: Matcha Frozen Popsicles Recipe

Featured Topics