Emerald Seas Matcha Butter Recipe
Recipes, Matcha, Drinking & Eating, Entrees
Share: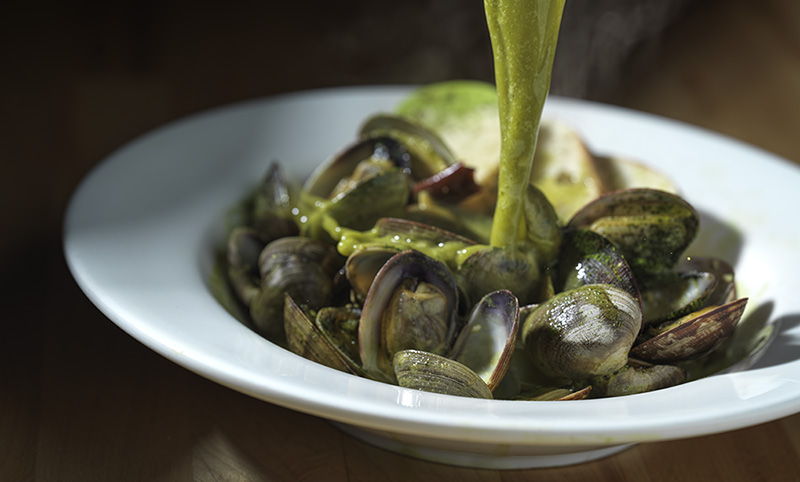 Rich in flavor and visually stunning, the matcha in this Emerald Seas Matcha Butter Recipe adds extra depth and creaminess to the butter sauce in this dish, creating an emerald sea of umami for the clams and pasta. Here's how to recreate it at home.
How to Make Emerald Seas Matcha Butter Clams
Serves 2
Prep Time: 60 minutes

Cooking Time: 20 minutes

Ingredients
Matcha Butter
Clams
1 tsp loose leaf Sencha Fukamushi
2 Tbsp chopped garlic
9 oz fresh uncooked Manila clams
1/3 cup sake
Cooked pasta (bucatini pasta recommended)
1 tsp chopped chili pepper (optional)
Step 1: Make the Matcha Paste
Combine the Culinary Matcha powder and water to make a thick paste.
Step 2: Add Butter
Add soft butter to the paste, mixing well.
Step 3: Keep Matcha Paste in Fridge
Spread out mixture on a flat piece of plastic wrap, then put in the fridge and chill for 1 hour.
Step 4: Cook the Garlic and Chili Pepper
Prepare the pan with a little butter then add garlic and chili pepper and cook on medium heat until aromatic.
Step 5: Mix in the Clams
Add clams, Sencha, and sake then turn the heat up to high and put on the lid.
Step 6: Add the Matcha Butter
When the clams open, add the matcha butter and turn off the heat.
Step 7: Serve
Wait until the butter is melted, then pour over cooked pasta and serve.
Check out more green tea recipes on our blog and by downloading our free Green Tea and Beyond recipe book.

READ NEXT: Linguini and Tomatoes with Matcha Cheezy Cashew Cream Sauce

Featured Topics