Matcha Fruit And Kale Power Smoothie Recipe
Recipes, Desserts & Beverages, Drinking & Eating, Matcha
Share: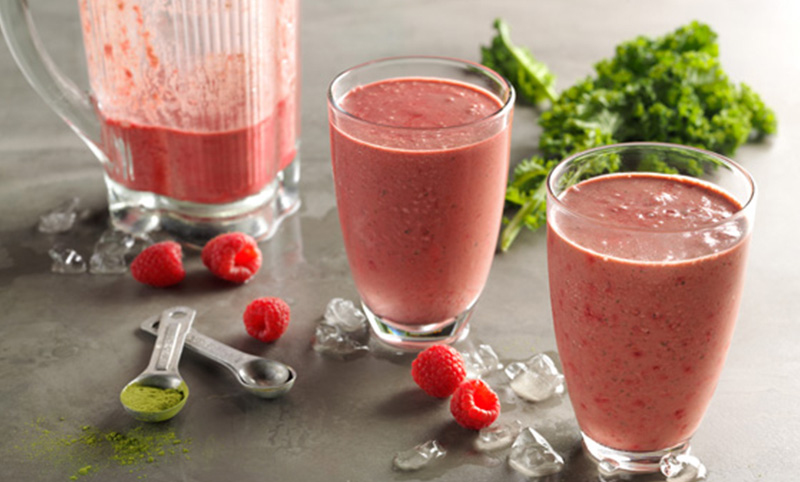 Whether you're looking for a new smoothie to start the day or a post-workout treat, this matcha fruit and kale power smoothie would be perfect. Learn how to make this green tea smoothie here.
Easy Green Tea Smoothie | How to Make Matcha Fruit And Kale Power Smoothie
Ingredients
Serves 2
Vegan recipe
1 tsp. Sugimoto Organic Daily Matcha or Ceremonial Matcha plus sprinkles for topping
1 scoop pea powder protein mix
1/4 tsp. stevia powder
1 1/2 cup coconut milk
6 ice cubes
1 cup fresh or frozen raspberries
1/2 cup tart cherry juice
1 stalk fresh kale, cut into small pieces
1 Tbsp fresh lemon juice
Step 1: Mix the fresh ingredients
Pour coconut milk, lemon juice, and cherry juice into blender; add ice cubes and blend.
Add raspberries and kale; blend.
Step 2: Add the Powdered Ingredients
Mix together and stir in matcha, pea, and Stevia powder, and blend well and serve with matcha sprinkled on top.
Water can be added if too thick. Sugar or other sweeteners may be substituted for Stevia but the exact amount will vary according to taste.
Check out more green tea recipes on our blog and by downloading our free Green Tea and Beyond recipe book.

READ NEXT: Matcha Frozen Popsicles Recipe
Featured Topics