Matcha Pudding Recipe
Recipes, Matcha, Desserts & Beverages
Share: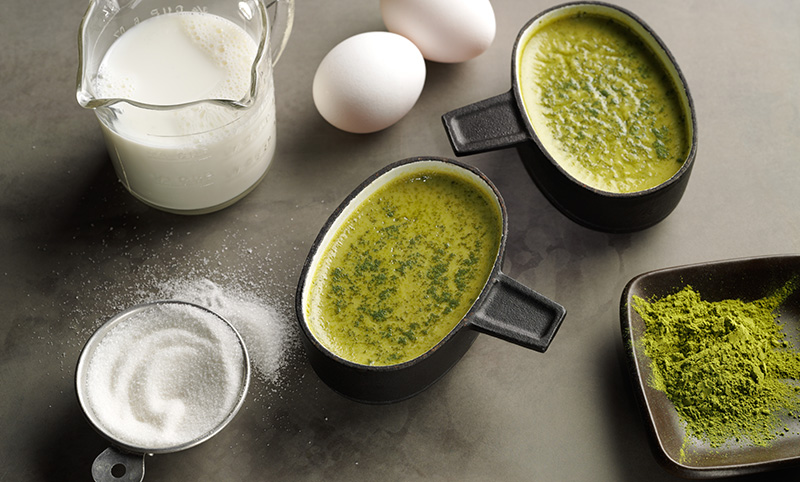 This yummy matcha pudding is so easy to make and only requires ingredients you probably already have in your kitchen. Here's how to make it.

Ingredients
Makes six 6oz soufflé cups
How to Make Matcha Pudding
Step 1: Preheat the Oven
Preheat oven to 320°F.
Step 2: Boil Milk
Bring milk to a slight boil in a pot. Turn off heat and set aside.
Step 3: Mix Eggs and Sugar
Mix eggs and sugar in a bowl. Add milk gradually and mix well.
Step 4: Sift Matcha
In a small bowl, sift matcha powder through a fine strainer (sifting is optional, but allows matcha to dissolve easily in water). Add hot water and mix well.
Add matcha mixture into egg/milk mixture. Stir well until the matcha is evenly distributed. Do not over-mix as this produces foam.
Step 5: Strain
Strain mixture for smoother texture and discard any undissolved pieces of matcha (optional).
Step 6: Bake and Serve
Place soufflé cup in roasting pan. Transfer mixture evenly into soufflé cups. Pour boiling water into roasting pan until half full.
Bake for 30 minutes. Remove cups from roasting pan and let cool. Once cool, keep refrigerated for 2 to 3 hours before serving.
*For crème brûlée, sprinkle about 1 tsp of sugar on each cup and spread evenly on top. Discard any excess sugar. Caramelize sugar with a kitchen torch.
Check out more green tea recipes on our blog and by downloading our free Green Tea and Beyond recipe book.

READ NEXT: Daigaku Imo a la Mode Recipe

Featured Topics