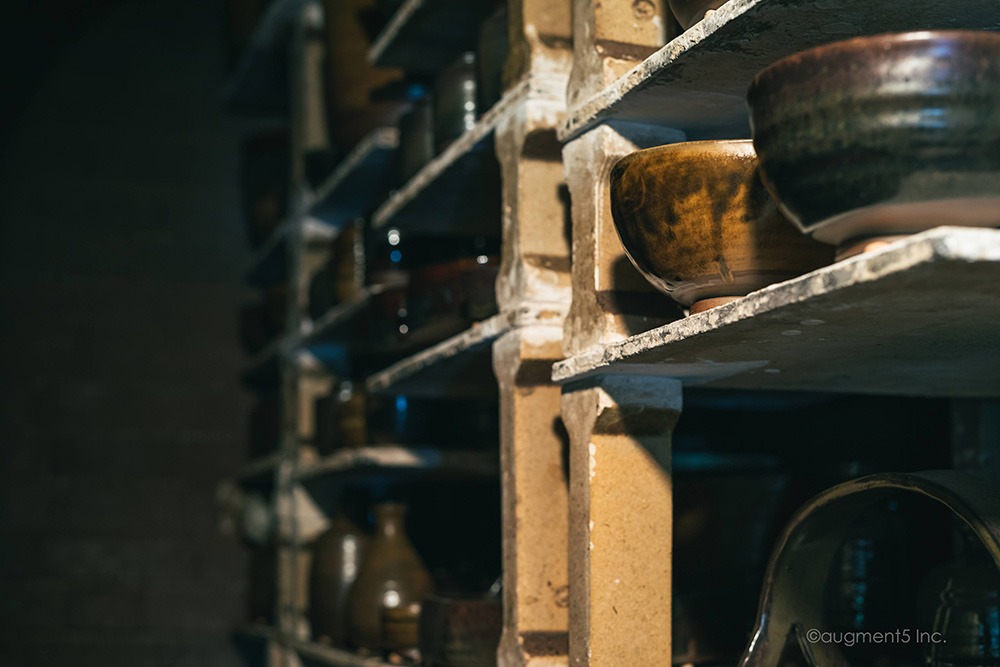 A True Artisan
We are proud to bring you the finest Shitoro-Yaki (志戸呂焼) from the Kanaya (金谷) region of Shizuoka Prefecture, a 5-minute walk from the Sugimoto headquarters. Rito Aoshima, one of five remaining Shitoro-Yaki artisans in the area, followed his father's footsteps after leaving a career in business to create his own line of Rito-gama or Rito pottery. Rito Aoshima initially studied pottery in Seto before inheriting the name of his master and predecessor, Rito Honda, and becoming the second Shitoro-Yaki practitioner of the Rito lineage. Like Aoshima, Honda started his pottery career elsewhere, originally active in Tokyo, before relocating to Kanaya to pursue Shitoro-Yaki. It has been 25 years since Rito Aoshima entered the world of pottery and 15 years since he inherited the Rito name. 2022 marks the 30th year of the Rito Kiln.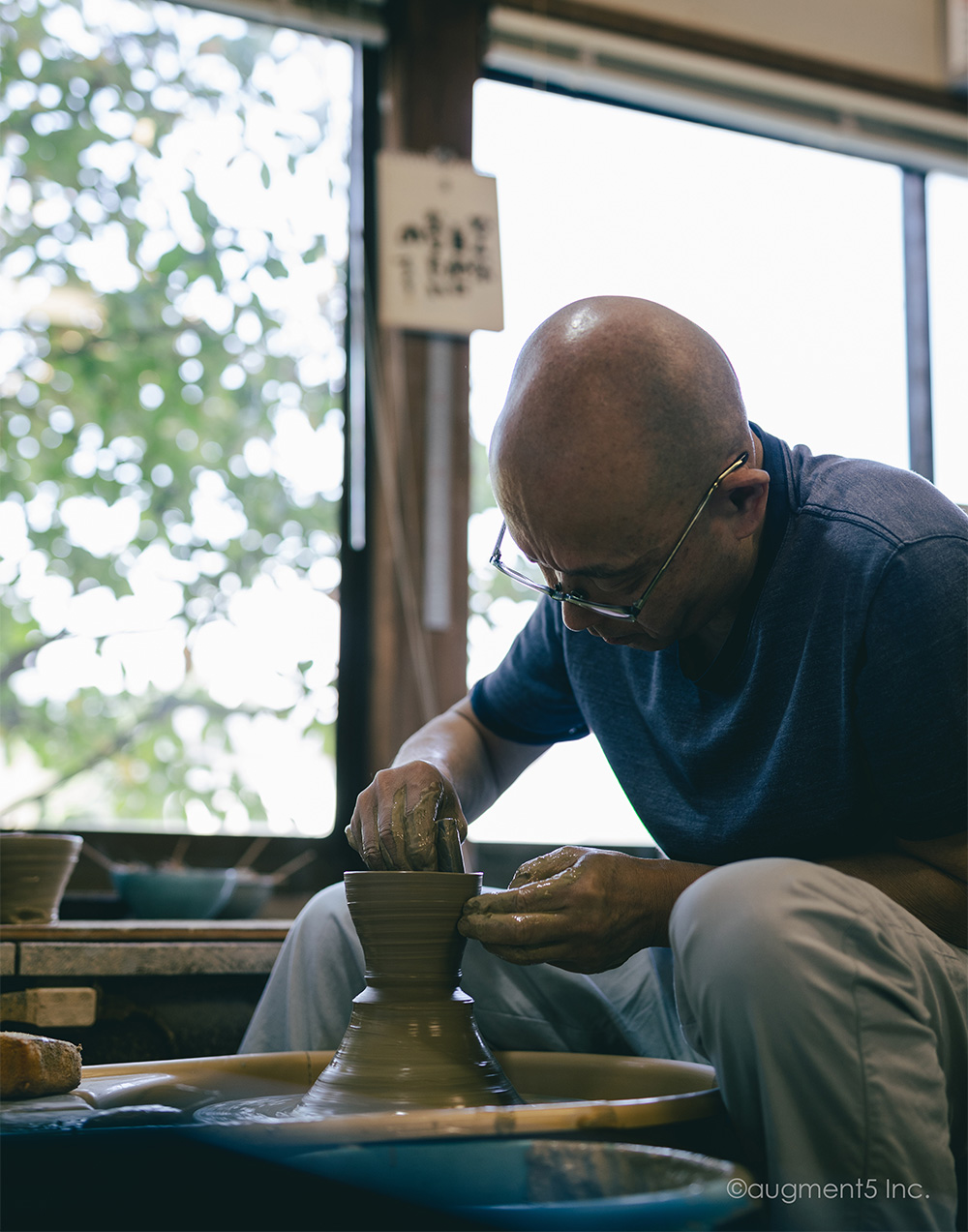 Traditionally Handcrafted
Although local clay has been utilized to make pottery in the Kanaya region from the Heian Period over 800 years ago, it was not until the late 15th century that Shitoro-Yaki was introduced to the area by skilled artisans from the famous pottery producing region of Seto, nearby modern day Nagoya. Initially, iron and ash-glazed Tenmoku tea bowls and water jars were commonly crafted items. Next, artisans took to producing cylindrical tea bowls, Tokuri or sake bottles, incense burners, and small dishes. By the 17th century, jars, pots, bowls, and dishes were regularly produced with black glaze. Rito-san currently specializes in teaware including Katakuchi Chawan and yunomi or tea cups.
Creating beautiful teaware requires skill, proper equipment, and high quality clay, which Kanaya region (today's Shimada City) is surrounded by. Rito utilizes an electric, a gas, and a wood kiln built as a Noborigama to produce his pottery. The wood fired Noborigama is a three-story climbing kiln that allows heat to travel upwards to achieve desired firing temperatures. Local red, iron-rich rocks are ground and mixed with ash and water to make glazes of various colors. Firing is a difficult skill that Rito has perfected. He learned that results can differ depending on the day's weather and humidity. The local clay that is used in Shitoro-Yaki is very fine which forms a hard, smooth surface once fired. Rito believes that a solid understanding of tea ceremony is important when crafting teaware which is both easy to use and long lasting.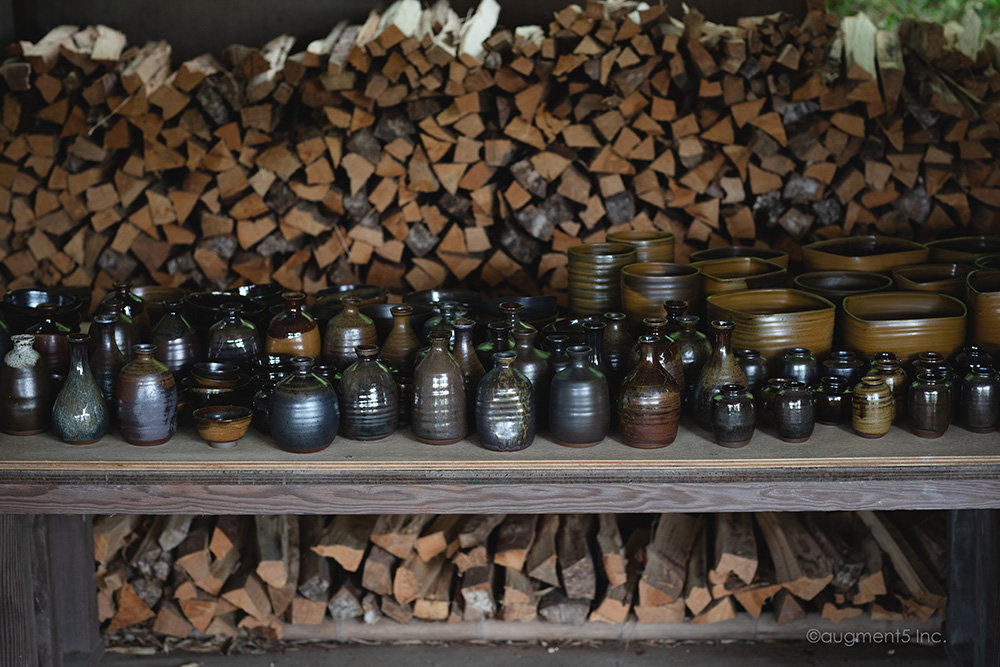 Quality At Its Finest
Each piece that Rito creates is carefully crafted with the best clay Kanaya has to offer, naturally high in iron and fine creating a hard yet smooth surface once fired. These attributes help make his work relatively resistant to humidity. Rich, ancient colors of brown and black are highlighted throughout rustic glaze for a clean finish and one-of-a-kind look.
Shitoro-Yaki is characterized by its complexity, which reflects its traditional style and historical depth. An effortless and beautiful canvas showcasing the "kirei-sabi" aesthetic which means gracefulness with simplicity. The asymmetric elements and sense of beauty that Rito incorporates into his pottery styles come from the influence of Kobori Enshu, the master of tea for Tokugawa Shoguns and founder of Enshu School of Japanese Tea Ceremony. Shitoro-Yaki remains the primary teaware of the Enshu School today.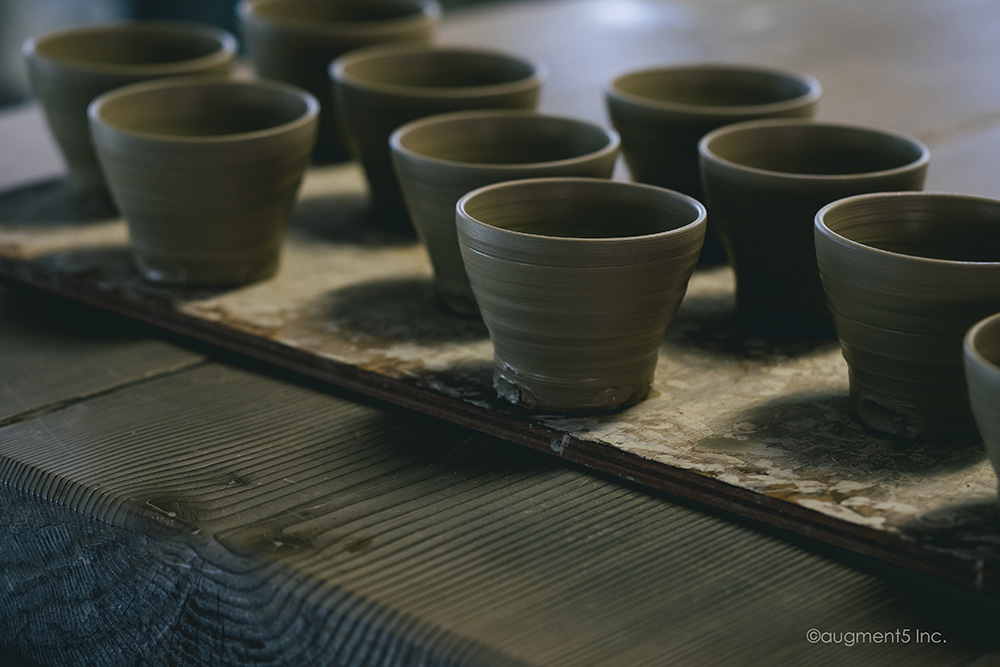 Essential Teaware For Your Home
At Sugimoto, we are honored to have Rito Aoshima join us in our mission to bring the finest teaware to homes around the globe. To our delight, Rito's works of art are now conveniently accessible outside of Enshu School, and galleries based in Japan. It is our hope that by bringing true Sugimoto authenticity to our customers we can do our part to ensure this tradition of craftsmanship is here to stay. Experience the difference authenticity makes.

Artisanal Craftmanship